Chile full name Republic of Chile, is located in the southwest of South America, Andes western foot. East with Argentina, in the north border with Peru, Bolivia, the west with Pacific, South with Antarctica across the sea, is the narrowest country in the world. Largest copper reserves in the world, has known as "Copper Kingdom". Capital: San Diego, major cities: Punta Arenas, Valparaiso, Chillan. National Day: September 18, 1810, the national anthem: Himno Nacional, the official language: Spanish.

Chile flag is blue, white, and red. Rely on the flagpole side of the flag at the top corner of the blue square, and its central decorated with a white five-pointed star. The flag is white, red two parallel rectangular. White in the red next. The white part is equal to two-thirds of the red part. The red symbol for Chile's independence and freedom, in order to resist the rule of the Spanish colonial army in Rancagua heroic sacrifice of the martyrs blood. Snow-white symbol of the Andes peak. Blue symbolizes the ocean.

This Chile flag pin is soft enamel pin with gold plating and epoxy. Firstly die struck the design on metal plate, then punching the shape and polishing next. Plated is the third process, enamel and epoxy is the final process. These are hand made with high quality. Take one to love your country directly. You are a Chilean. Other South America pins is: Brazil flag pins and Bolivia Flag Pins.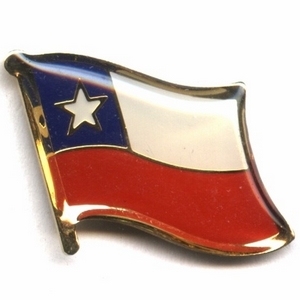 Below is the detailed specification:
1) Chile flag pins
2) Material: Iron/bronze
3) Size: 20x18mm or custom size
4) Attachment: Butterfly clutch
5) Production process: Stamping-enamel-epoxy
6) Minimum order: No MOQ
7) Sampling time: 7 days
8) Delivery time: 7-18 days for 100-10000pcs
9) Packaging: Each into a free poly bag
10)Payment Terms: T/T, Western Union, Paypal