Do you want to make Bulgaria flag pins? Here Lapel Pins CN is the nice manufacturer making for you. Nearly over 10 years experience on kinds of pins, like offset printing pins, trading pins and enamel pins. Having produce over 100 countries flag lapel pins, like US flag pins, Ukraine flag pins and Ireland flag pins. Here is the Bulgaria one: gold plating and soft enamel color filled. Nice design and handmade.

Bulgaria full name is The Republic of Bulgaria, located in Balkans southeastern Europe. It's borders are Romania (Romania flag pins) and Serbia, Macedonia, Greece (Greece flag pins) and Turkey, the eastern coast near the black sea. Capital: Sofia, National Day: 3th March, the national anthem: "dear parents nations".

Bulgaria flag is a rectangle, long and wide ratio is 5:3. The three parallel equal horizontal rectangles composition, top-down white, green, respectively, red colours. White signifies people love peace and freedom, green agriculture and the country's main symbol of wealth, red symbol of the mighty blood. White, red two colors are ancient Bohemian kingdom of traditional color.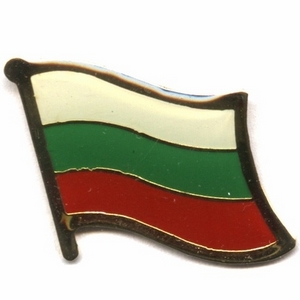 Below is the detailed specification:
1) Bulgaria flag pins
2) Material: Iron/Bronze
3) Size: 1" or custom size
4) Attachment: Butterfly clutch
5) Production process: Stamping-plated-enamel
6) Minimum order: 1 piece
7) Sampling time: 7 days
8) Delivery time: 10-18 days for 1000-5000pcs
9) Packaging: Each into a free poly bag
10)Payment Terms: T/T, Western Union, Paypal