The Republic of Argentina is a federal republic in southern South America countries, bordering with Chile, Bolivia, Paraguay, Brazil, and other countries. Southeast facing the Atlantic Ocean. It is the area of Latin America's second-largest country, and the world's eighth largest country in area. Capital: Buenos Aires, the main city: Ushuaia, Rosario National Day: 1910 May 25.

Argentine flag rectangular length and width ratio of approximately 5:3. Top-down by the middle of the white rectangle is a "May the sun light blue, white, light blue, three parallel horizontal rectangle. Sun body resembles a human face, is the pattern of the first coin issued by Argentina. Light blue symbol of justice, white symbolizes faith, purity, integrity and noble; "May the sun" symbol of freedom and dawn. June 20 of each year as Flag Day - 1810. The two colors were a symbol of purity and piety. July 9, 1816, announced the establishment of the Republic of Argentina, rising banner. Since then, it has been formally identified as the national flag of Argentina.

Do you want to say love with Argentina as a Argentinean. Argentina flag pins made with soft enamel, gold plating and epoxy on surface. We made it every process hand-made with our heart. Take one in your everyday's life is a good choice. Loyal is not a word but one falg pins is OK. Here is other Latin pins: Uruguay flag pins, Chile pins, Mexoci flag pins.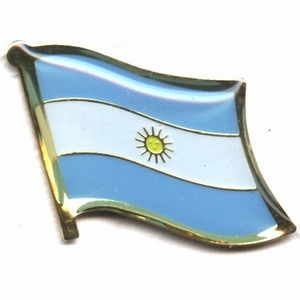 Below is the detailed specification:
1) Argentina flag pins
2) Material: Iron/Bronze
3) Size: 1" or custom size
4) Attachment: Butterfly clutch
5) Production process: Die struck-enamel
6) Minimum order: 1 piece
7) Sampling time: 7 days
8) Delivery time: 10-15 days for 1000-5000pcs
9) Packaging: Each into a free poly bag
10)Payment Terms: T/T, Western Union, Paypal