Turkey is do not belong to only one continent. So Turkey has the beautiful scenery and nice climate. And here is the Turkey flag pins making for you. Gold plating with well polishing, enamel process and epoxy with handmade. The best things to loyal your country and patriotic. Put on your hat, clothes or articles for daily use. The similar flag lapel pins are: US flag pins, France flag pins and Italy flag pins.
Turkey full name The Republic of Turkey, across Europe and Asia. Bounded by the Black Sea, bordering the south Mediterranean, South East, Syria, Iraq, west of the Aegean Sea, and borders with Greece (Greece flag pins) and Bulgaria (Bulgaria flag pins), eastern Georgia (Georgia baseball pins), Armenia, Azerbaijan and Iran border. Capital: Ankara, major cities: Istanbul, National Day: October 1923 29, Anthem: "Independence March". In Turkey 99 percent of residents are Islam & Moslem, Turkish is the official language.
The Turkish flag was rectangular, the length and width ratio of 3:2. Face of the flag is red, rely on the flagpole side of the curved white crescent and a white five-pointed star. Red symbolizes the blood and victory; crescent and five-pointed star symbol to drive away the darkness, brighter, but also marks the Turkish people's faith in Islam, but also a symbol of happiness and good fortune.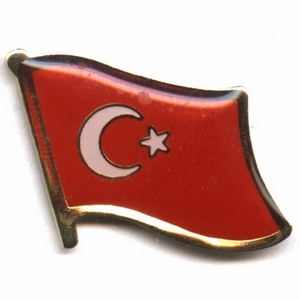 Below is the detailed specification:
1) Turkey flag pins
2) Material: Iron/Bronze
3) Size: 1" or custom size
4) Attachment: Butterfly clutch
5) Production process: Stamping-plated
6) Minimum order: 1 piece
7) Sampling time: 7 days
8) Delivery time: 10-18 days for 1000-5000pcs
9) Packaging: Each into a free poly bag
10)Payment Terms: T/T, Western Union, Paypal