Malaysia capital of Kuala Lumpur, a country in Southeast Asia. Consists of thirteen states, divided into two parts: West Malaysia in the Malay Peninsula, north Thailand, across the Straits of Johor in the south; another East Malaysia, located in the northern part of the island of Kalimantan, southern access to Indonesia (Indonesia flag pin). Major Cities: Kuching, Ipoh, Johor Bahru, Kuantan, hibiscus, National Day: 1957 August 31, 2011.

Malaysian flag is a horizontal rectangle. The main part consists of 14 red and white, equal to the width of the bar. The top left of a dark blue rectangle on a crescent yellow crescent and an angle of 14 yellow star. 14 red and white bars and 14-pointed star symbol of Malaysia's 13 states and the government. Blue symbolizes the unity of the people, and Malaysia's relationship with the Commonwealth ─ the British flag banner bottom blue, yellow symbolizes the head of state, the red symbolizes courage, white symbolizes pure, crescent symbol of Malaysia's state religion Islam.

Have you seen the Malaysia flag pin? Really nice and pretty. Red and white color just like a rainbow lapel pin. Blue background with the moon and star. Filled the soft enamel color. Plating the pins with gold, polishing surface very soft and smooth. It's a crafts, artware. Other Asia pins: Japan flag pin, India flag pins and Australian flag pins.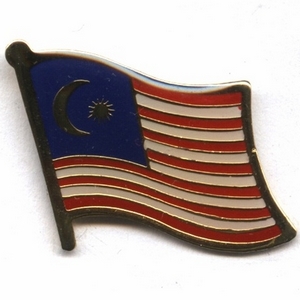 Below is the detail:
1) Malaysia flag pins
2) Material: Iron/Bronze
3) Size: 1" or custom size
4) Attachment: Butterfly clutch or safety clip
5) Production process: Die struck-enamel
6) Minimum order: 1 piece
7) Sampling time: 7 days
8) Delivery time: 10-15 days for 1000-5000pcs
9) Packaging: Each into a free oppbag
10)Payment Terms: T/T, Western Union, Paypal