Honduras full name Republic of Honduras, is a mountainous country in North America, bordering with Guatemala, El Salvador and Nicaragua Capital: Tegucigalpa, major cities: San Pedro – Sura Hu tika Serpa, National Day: September 15, 1821, most of the residents are Catholic. The festival "Holy Week" in the countries of Central America is one of the most important religious holiday in the year, and legal holidays, people will use this holiday travel, visiting friends and relatives, or to participate in religious celebrations.
The Honduras flag is horizontal rectangle, the length and width ratio is 2:1. Composed by three parallel horizontal rectangle, top-down order of blue, white, and blue; five blue five-pointed star (star lapel pins) in the middle of the white rectangle. The Flag color from the color of the flag of the Central American Federation. Blue symbolizes the Caribbean Sea and the Pacific, the white symbol of the pursuit of peace; five five-pointed star is added in 1866, expressing the desire of the five countries make up the Central American Federation can once again achieve joint.
Have you seen the Honduras flag pins? Here it is: nice flag shape and gold plating. Can be remained long time and not easy rusty. Man hand filled colors, epoxy on surface. Our products are making with the heart, please send us your inquiry and pretty quality and price will give for you soon. Here is other America flag pins: USA lapel pin, Canada pins and Mexico flag pins.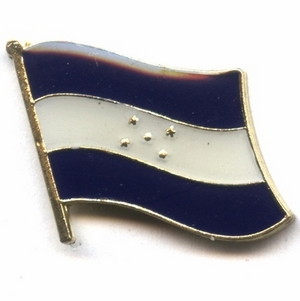 Below is the detailed specification:
1) Honduras flag pins
2) Material: Iron/Bronze
3) Size: 1" or custom size
4) Attachment: Butterfly clutch
5) Production process: Die struck-enamel
6) Minimum order: 1 piece
7) Sampling time: 7 days
8) Delivery time: 10-15 days for 1000-5000pcs
9) Packaging: Each into a free poly bag
10)Payment Terms: T/T, Western Union, Paypal