Costa Rica full name Republic of Costa Rica, a republic in North America, north of Nicaragua, South and Panama, the first no army in country bordering in the world. The capital San Jose. Major cities: Puntarenas, Limon, National Day: September 15, 1821 Main Religion: Catholic (Catholic lapel pin), official language: Spanish.
Costa Rica flag shape of rectangular, length and width ratio of about 5:3. Face of the flag consists of five parallel wide strips connected top-down order of blue, white, red, white, and blue; blue, white and color from the color of the flag of the Central American Federation, the red part of the establishment of the Republic in 1848 to increase 's. Blue represents the sky, opportunities, idealism and perseverance, the red represents enthusiasm and is independent of the flow of blood; white represents peace, wisdom and happiness. The red part of the left at the national emblem painted the government with a national flag, and the government flag proportion is 2:3.
Here Costa Rica flag pin made with metal material, plating gold color. Same color top to bottom as soft enamel filled handmade. Final process is cover epoxy on surface to protect not scratch easily. Other North America: US flag pins, Canada pins and Mexico lapel pins.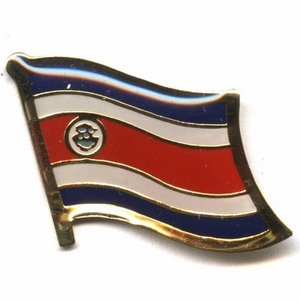 Below is the detailed specification:
1) Costa Rica flag pins
2) Material: Iron/Bronze
3) Size: 1" or custom size
4) Attachment: Butterfly clutch
5) Production process: Die struck-enamel
6) Minimum order: 1 piece
7) Sampling time: 7 days
8) Delivery time: 10-15 days for 1000-5000pcs
9) Packaging: Each into a free oppbag
10)Payment Terms: T/T, Western Union, Paypal