Burundi is located in the eastern part of Africa south of the equator. Bordering the north with Rwanda, east and south with Tanzania, the junction of the West and the Congo (DRC) adjacent to the southwest near the Tanganyika Lake. Within the multi-plateau and mountainous, most east of the Great Rift Valley highlands constitute the national average of 1600 meters above sea level, known as the "hill country". The capital: Bujumbura, National Day: July 7, 1962

Burundi national flag is rectangular, long and wide ratio of 3:2. Two cross (cross lapel pin) White called the color the wide bars face of the flag into four triangles, up and down two equal for the red; around two equal, is green. The center of the face of the flag is a white circle, within three with green edge of the Red Star of David, in a triangle shape. Red symbolizes the struggle for freedom the blood of the victim, the green symbolizes expect progressive cause, white represents peace exists in the human middle. The three stars symbolize unity, labor, and progress ", also on behalf of Burundi three tribes - Hutu, Tutsi, Twa, its unity.

Have you seen the Burundi flag pin? Here is the nice one, rectangular shape with the Burundi map. Gold plating color and red, white, green soft enamel process. Pretty stamping and polishing, touch the smooth epoxy surface, you will feel the flat metal pin. Other Africa pin: Nigeria flag pins, South Africa flag pins and Cameroon flag pins.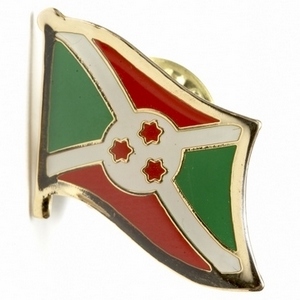 Below is the detail:
1) Burundi flag pins
2) Material: Iron/Bronze
3) Size: 1" or custom size
4) Attachment: Butterfly clutch or safety clip
5) Production process: Die struck-enamel
6) Minimum order: 1 piece
7) Sampling time: 7 days
8) Delivery time: 10-15 days for 1000-5000pcs
9) Packaging: Each into a free oppbag
10)Payment Terms: T/T, Western Union, Paypal