Algeria, in northern Africa, the largest country in Africa. The majority of the country's are Arabs, followed by the Berber (about 20%). Official language is Arabic, French. Islam is the state religion (religion lapel pin). The capital, Algiers. Major cities: Annaba, Oran, National Day: November 1.

Algerian flag rectangular, long and wide ratio of 3:2. Equal to the vertical face of the flag by the left green right white two parallel rectangular composition, the central crescent red crescent and a slightly sloping red five-pointed star. Green symbolizes hope for the future, white represents purity and peace, red symbolizes revolution and the dedication of their ideals. Islam is the state religion of Algeria, crescent and five-pointed star (star lapel pins) is a symbol of Muslim countries.

Have you seen the Algeria flag pin? Here is the nice one, unusual rectangular shape with the Algeria flag. Gold plating color with red, white, green soft enamel process. Pretty stamping and polishing, touch the smooth surface, you will feel the flat epoxy. Other Africa pin: Nigeria flag pins, South Africa flag pins and Cameroon flag pins.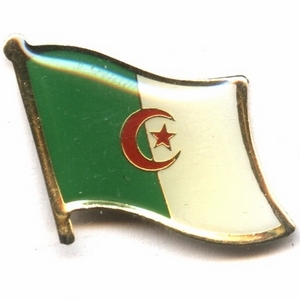 Below is the detail:
1) Algeria flag pins
2) Material: Iron/Bronze
3) Size: 1" or custom size
4) Attachment: Butterfly clutch or safety clip
5) Production process: Die struck-enamel
6) Minimum order: 1 piece
7) Sampling time: 7 days
8) Delivery time: 10-15 days for 1000-5000pcs
9) Packaging: Each into a free oppbag
10)Payment Terms: T/T, Western Union, Paypal