The Principality of Andorra is located in southwestern Europe and is a landlocked country at the junction of France and Spain. It is one of the world's pocket countries, with a total land area of 468 square kilometers. Andorra's flag is rectangular, with a ratio of length to width of 3:2. This flag was approved for use in 1866; the flag is composed of three vertical rectangles of blue, yellow and red from left to right, with a national emblem in the center, among which blue The color and red are also the colors of the French flag of Andorra's northern neighbor, and the yellow and red colors are also on the Spanish flag of Andorra's southern neighbor.
United States of America, referred to as USA, is a federal republican constitutional state composed of Washington, DC, 50 states, and Guam. Its main part is located in central North America, with a total area of 9.373 million square kilometers and a population of 330 million. General English is an immigrant country. The United States was originally a settlement of Indians.
This USA Andorra flag pin is the double flag pins. Left is the USA flag pin, right is the Andorra flag pin. Use the two country flag shape and design, two gold mast crossed each. Round top seems a long flag waving. Making with stamping technology and soft enamel process, can be quick producing and pretty good price.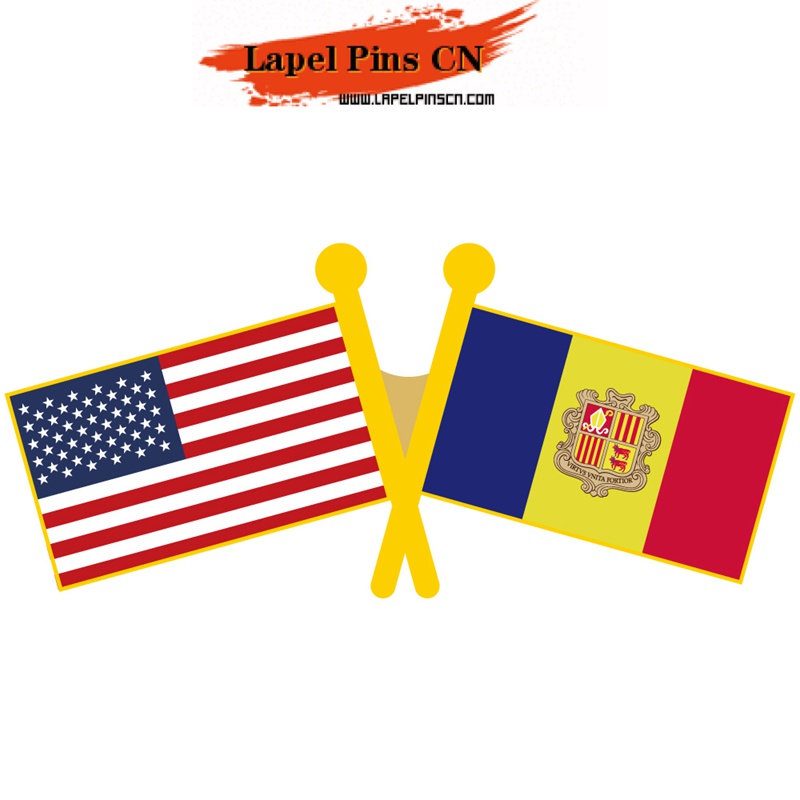 Here are the details:
1) USA Andorra flag pins
2) Material: Iron/bronze/zinc alloy
3) Size: 1.25" or custom size
4) Attachment: Rubbers or butterfly clutch
5) Production process: Die struck-polishing-gold plating-soft enamel
6) Minimum order: No Minimum (No MOQ)
7) Sampling time: 7 days
8) Delivery time: 10-15 days for 100-5000pcs
9) Packaging: Each into a free poly bag
10)Payment Terms: T/T Western Union PayPal