The American flag Stars and Stripes is a horizontal rectangle with a length to width ratio of 19:10. The main body consists of 13 red and white wide strips, 7 red strips and 6 white strips; the upper left corner of the flag is a blue rectangle with 90 white five-pointed stars in 9 rows. Red symbolizes strength and courage, white stands for purity and innocence, and blue symbolizes vigilance, perseverance and justice. The 13 wide strips represent the 13 states that first launched the War of Independence and won, and 50 five-pointed stars represent the number of states in the United States of America. In 1818, the US Congress passed the bill, and the red and white wide strips on the national flag were fixed at 13 and the number of five-pointed stars should be consistent with the number of states in the United States.
Alderney is located in the Channel Islands in the English Channel and is part of the United Kingdom. Although the United Kingdom has sovereignty over Alderney, the island has its own autonomous government. Alderney is 3 miles long and 1.5 miles wide and is the third largest island in the Channel Islands, located at the northern end of the entire Channel Islands. The resident population on the island is only 2,500. The main town (the only town on the island) is St. Anne. At St. Anne, you can find many of the necessary services, such as schools, post offices, hotels, restaurants, banks and small shops.
This USA Alderney flag pin is the double flag pins. Left is the USA
flag pin
, right is the Alderney flag pin. Use the two country flag shape and design, two gold mast crossed each. Round top seems a long flag waving. Making with stamping technology and soft enamel process, can be quick producing and pretty good price.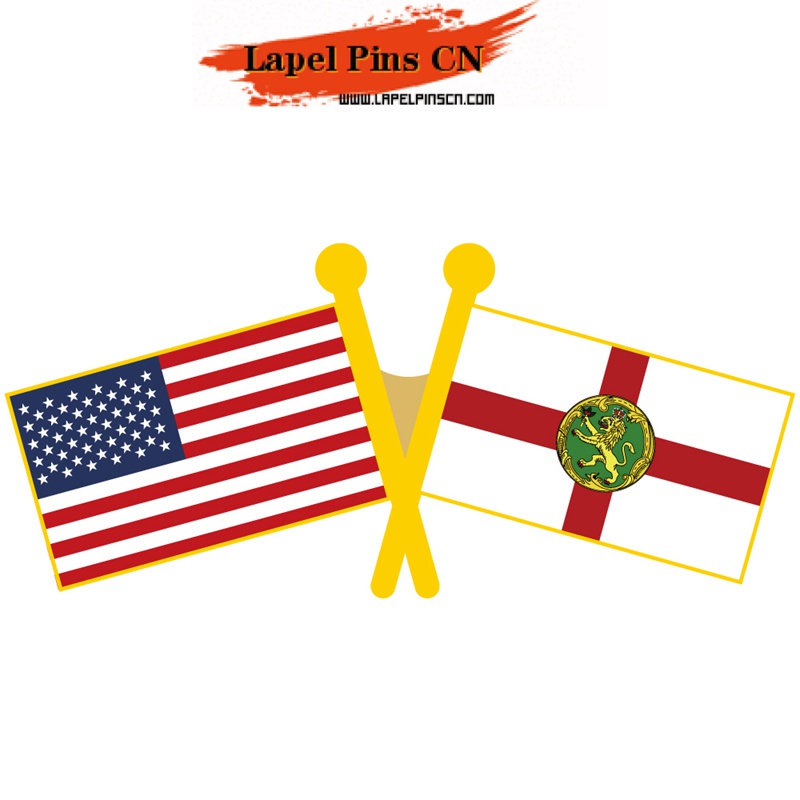 Here are the details:
1) USA Alderney flag pins
2) Material: Iron/bronze/zinc alloy
3) Size: 1.25" or custom size
4) Attachment: Rubbers or butterfly clutch
5) Production process: Die struck-polishing-gold plating-soft enamel
6) Minimum order: No Minimum (No MOQ)
7) Sampling time: 7 days
8) Delivery time: 10-15 days for 100-5000pcs
9) Packaging: Each into a free poly bag
10)Payment Terms: T/T Western Union PayPal