The American flag Stars and Stripes is a horizontal rectangle with a length to width ratio of 19:10. The main body consists of 13 red and white wide strips, 7 red strips and 6 white strips; the upper left corner of the flag is a blue rectangle with 90 white five-pointed stars in 9 rows. Red symbolizes strength and courage, white stands for purity and innocence, and blue symbolizes vigilance, perseverance and justice. The 13 wide strips represent the 13 states that first launched the War of Independence and won, and 50 five-pointed stars represent the number of states in the United States of America. In 1818, the US Congress passed the bill, and the red and white wide strips on the national flag were fixed at 13 and the number of five-pointed stars should be consistent with the number of states in the United States. For each additional state, a star is added to the flag, which is usually executed on July 4th, the second year after the state is added. So far the flag has increased to 50 stars, representing the 50 states of the United States. On June 14th each year, the "American Flag is commemorated." On this day, commemorative events were held throughout the United States to show respect for the national flag and love for the United States.
The Aland Islands, also known as Ahvenanmaa, is the only autonomous province in Finland. It is located on the southwest coast of Finland and consists of 6,500 small islands with 25,000 inhabitants, mostly Swedish. The capital of the Aland Islands is Mariehamn. The dialect Swedish, the dotted islands, the huge reefs, the wildflowers and the lush forests make this island unique. The scenery of Åland is very different from that of the Finnish interior. There are many medieval monuments, churches and Bomasund Sea Fortress. The Aland Islands are part of the Republic of Finland. The autonomous government has established autonomous provinces in addition to diplomacy, justice, and national taxes.
This USA Aland flag pin is the double
flag pins
. Left is the USA flag pin, right is the Aland flag pin. Use the two country flag shape and design, two gold mast crossed each. Round top seems a long flag waving. Making with stamping technology and soft enamel process, can be quick producing and pretty good price.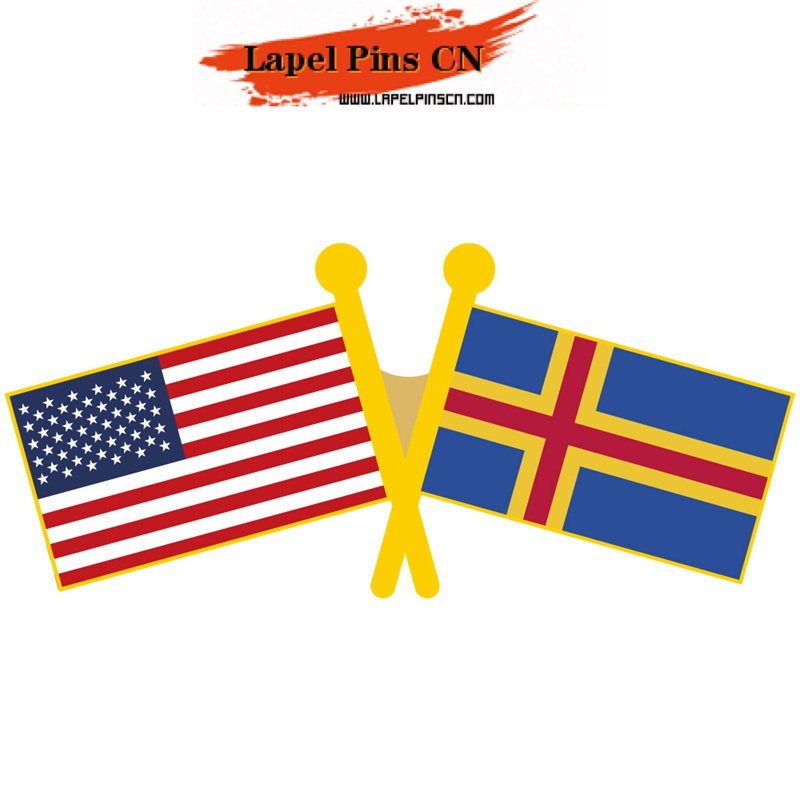 Here is the details:
1) USA Aland flag pins
2) Material: Iron/bronze/zinc alloy
3) Size: 1.25" or custom size
4) Attachment: Rubbers or butterfly clutch
5) Production process: Die struck-polishing-gold plating-soft enamel
6) Minimum order: No Minimum (No MOQ)
7) Sampling time: 7 days
8) Delivery time: 10-15 days for 100-5000pcs
9) Packaging: Each into a free poly bag
10)Payment Terms: T/T Western Union PayPal