The American flag Stars and Stripes is a horizontal rectangle with a length to width ratio of 19:10. The main body consists of 13 red and white wide strips, 7 red strips and 6 white strips; the upper left corner of the flag is a blue rectangle with 90 white five-pointed stars in 9 rows. Red symbolizes strength and courage, white stands for purity and innocence, and blue symbolizes vigilance, perseverance and justice. The 13 wide strips represent the 13 states that first launched the War of Independence and won, and 50 five-pointed stars represent the number of states in the United States of America. In 1818, the US Congress passed the bill, and the red and white wide strips on the national flag were fixed at 13 and the number of five-pointed stars should be consistent with the number of states in the United States. For each additional state, a star is added to the flag, which is usually executed on July 4th, the second year after the state is added. So far the flag has increased to 50 stars, representing the 50 states of the United States. On June 14th each year, the "American Flag is commemorated." On this day, commemorative events were held throughout the United States to show respect for the national flag and love for the United States.
Ajaria is also called Adzhariya or Adzarija is the administrative region of Georgia. In the southwestern part of the outer Caucasus, the Black Sea in the west and the Turkey in the south. The area is 3,000 square kilometers. Mainly Azar and Georgian, as well as Russians, Armenians and Greeks. Established on July 16, 1921. The capital of Batumi. Most of them are mountains, and the coastal and river valleys are lowlands. Two-thirds live in coastal lowlands and foothills. Subtropical crops are the economic base with tea, citrus, avocado, tung tree, eucalyptus and bamboo. Binhai Black Sea is bordered by Turkey. Most of the mountains except the coastal strips. The area is 3,000 square kilometers. The capital, Batumi, is the largest city. The region was ruled by Turkey in the 17th century and was annexed by Russia in 1878. 1922∼ 1992 is an autonomous republic of Soviet socialism.
This USA Ajaria flag pin is the double
flag pins
. Left is the USA flag pin, right is the Ajaria flag pin. Use the two country flag shape and design, two gold mast crossed each. Round top seems a long flag waving. Making with stamping technology and soft enamel process, can be quick producing and pretty good price.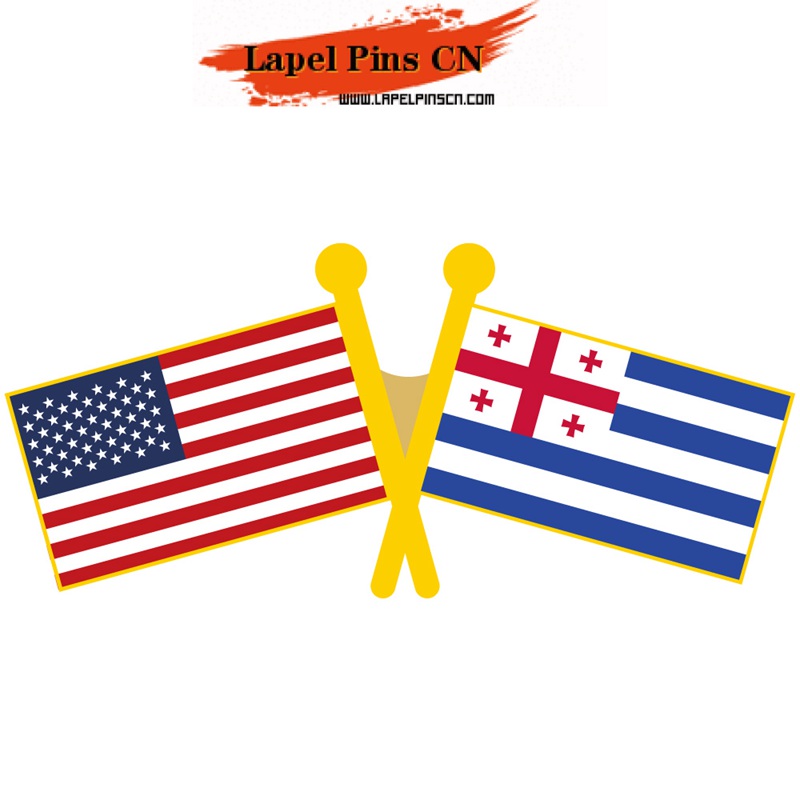 Here is the details:
1) USA Ajaria flag pins
2) Material: Iron/bronze/zinc alloy
3) Size: 1.25" or custom size
4) Attachment: Rubbers or butterfly clutch
5) Production process: Die struck-polishing-gold plating-soft enamel
6) Minimum order: No Minimum (No MOQ)
7) Sampling time: 7 days
8) Delivery time: 10-15 days for 100-5000pcs
9) Packaging: Each into a free poly bag
10)Payment Terms: T/T Western Union PayPal