United States of America, referred to as USA, is a federal republican constitutional state composed of Washington, DC, 50 states, and Guam. General English is an immigrant country. The United States was originally a settlement of Indians. At the end of the 15th century, Spain, the Netherlands, France, and the United Kingdom successively immigrated here. Before the 18th century, Britain established 13 British North American colonies on the Atlantic coast of the United States. In 1775, an American war broke out against the colonial rule of the British Empire. On July 4, 1776, the second continental conference was held in Philadelphia. George Washington served as the commander-in-chief of the Continental Army and issued the Declaration of Independence, announcing the formal establishment of the United States of America. National Day July 4, 1776 (Independence Day).
The Islamic Republic of Afghanistan, is located in the heart of Asia. The northern part of Afghanistan borders Turkmenistan, Uzbekistan and Tajikistan, the east borders China and some Pakistan controls the Jammu-Kashmir region, the south borders Pakistan, and the west borders Iran. The Pashtuns in Afghanistan are currently the most populous ethnic groups in the country. Afghanistan is one of the least developed countries in the world, agriculture is the main economic pillar, but arable land is still less than two-thirds of agricultural land. The population is more than 30 million. The Afghan flag is rectangular in shape and has a length to width ratio of 3:2. Enabled on February 5, 2002. The style of the flag is black, red and green, the black symbolizes the past, the red symbolizes the blood, and the green symbolizes the future. These three colors are also typical Islamic colors. The main body of the flag is the national emblem located in the middle.
This USA Afghanistan flag pin is the double flag pins. Left is the
USA flag pin
, right is the Afghanistan flag pin. Use the two country flag shape and design, two gold mast crossed each. Round top seems a long flag waving. Making with stamping technology and soft enamel process, can be quick producing and pretty good price.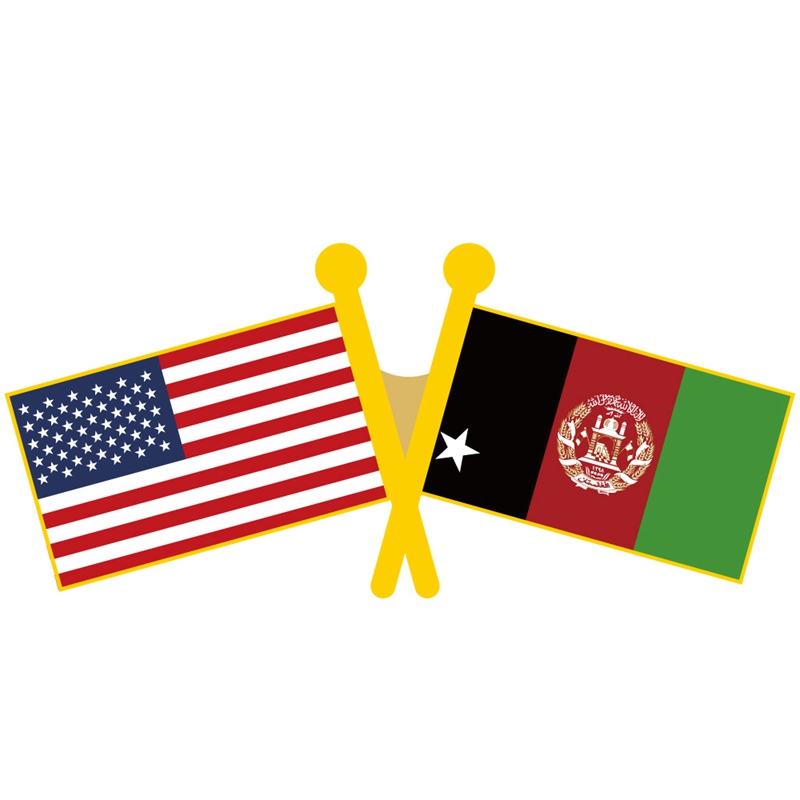 Here is the details:
1) USA Afghanistan flag pins
2) Material: Iron/bronze/zinc alloy
3) Size: 1.25" or custom size
4) Attachment: Rubbers or butterfly clutch
5) Production process: Die struck-polishing-gold plating-soft enamel
6) Minimum order: No Minimum (No MOQ)
7) Sampling time: 7 days
8) Delivery time: 10-15 days for 100-5000pcs
9) Packaging: Each into a free poly bag
10)Payment Terms: T/T Western Union PayPal