United States of America, referred to as USA, is a federal republican constitutional state composed of Washington, DC, 50 states, and Guam. Its main part is located in central North America, with a total area of 9.373 million square kilometers and a population of 330 million. General English is an immigrant country. The United States was originally a settlement of Indians. At the end of the 15th century, Spain, the Netherlands, France, and the United Kingdom successively immigrated here. Before the 18th century, Britain established 13 British North American colonies on the Atlantic coast of the United States. In 1775, an American war broke out against the colonial rule of the British Empire. On July 4, 1776, the second continental conference was held in Philadelphia. George Washington served as the commander-in-chief of the Continental Army and issued the Declaration of Independence, announcing the formal establishment of the United States of America. National Day July 4, 1776 (Independence Day).
Abkhazia is located between the Black Sea and the ridgelines of the Greater Caucasus. On the east coast of the Black Sea, it is a long and narrow coastal lowland. These mountain mouths gradually rise to form a foreland zone composed of hills washed by sea water and river water, and finally merge with the steep slopes of the Caucasus Mountains. It belongs to the subtropical climate. The Abkhaz issue is one of the main disputes between Georgia and Russia and one of the sources of tension between the two countries. There are some larger settlements - Sokhumi, Ochamchira and Gagra and Novy Afon. Although there is little arable land, the economy is still dominated by agriculture. Over the years, Abkhazia has been in a state of confrontation with the Central Government of Georgia for a long time.
This USA Abkhazia flag pin is the double flag pins. Left is the
USA flag pin
, right is the Abkhazia flag pin. Use the two country flag shape and design, two gold mast crossed each. Round top seems a long flag waving. Making with stamping technology and soft enamel process, can be quick producing and pretty good price.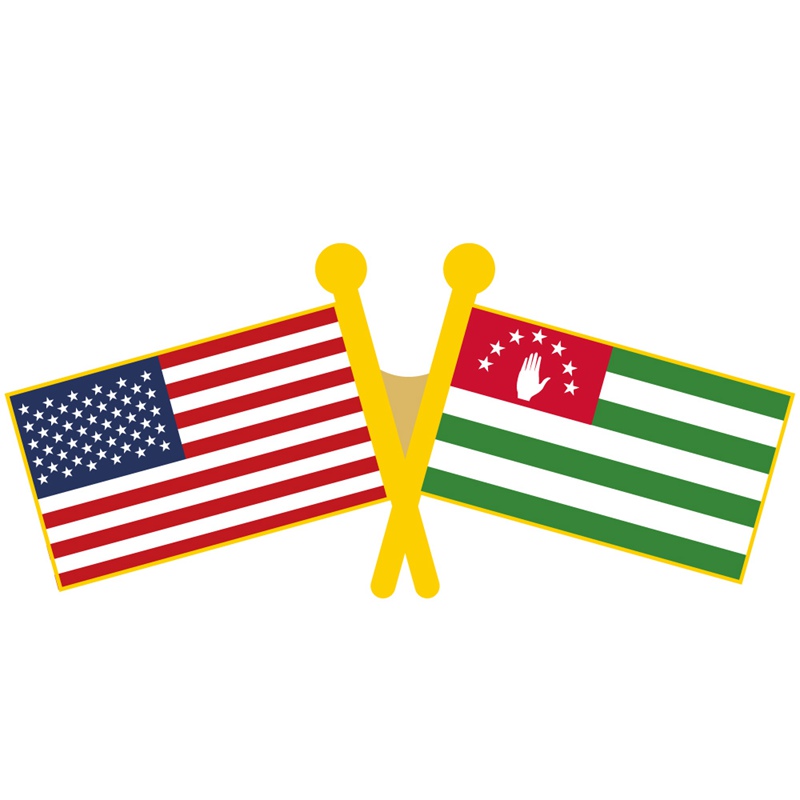 Here is the details:
1) USA Abkhazia flag pins
2) Material: Iron/bronze/zinc alloy
3) Size: 1.25" or custom size
4) Attachment: Rubbers or butterfly clutch
5) Production process: Die struck-polishing-gold plating-soft enamel
6) Minimum order: No Minimum (No MOQ)
7) Sampling time: 7 days
8) Delivery time: 10-15 days for 100-5000pcs
9) Packaging: Each into a free poly bag
10)Payment Terms: T/T Western Union PayPal