The Syrian Arab Republic, in Arabic: الجمهورية العربية السورية, located in Western Asia, the Levant, North and Turkey bordering the east junction with Iraq, Jordan adjoining the south, southwest and the Lebanese and Palestinian neighbors, Cyprus West and across the Mediterranean sea.
After World War I by the French Mandate, 1944 independence, 1963, led by the Assad family, the ruling Baath party since. Syria is a middle-income country, is located in the world's oil and gas wealth of the Middle East's most central location, the economic situation is the main source of agriculture, oil, industry and tourism, oil is facing depletion, population growth, the unemployment rate is gradually increased .
Flag of Syria was more than a rectangle, length and width of 3: 2. The flag from top to bottom by the red, white, black three parallel rectangular cross linked structure, there are two different sized green five-pointed star in the white section. Flag has a meaning: red, white and black flag of the United Arab Republic tone, indicating that Syria had joined the United Arab Republic, the white part of the five-pointed star represents the number of the first countries to join the United Arab Republic of Syria is the second one, so marked with two stars. Below is the Syrian flag pins: normal simple design as the flag, gold plating with soft enamel. Also epoxy surface to protect the pin.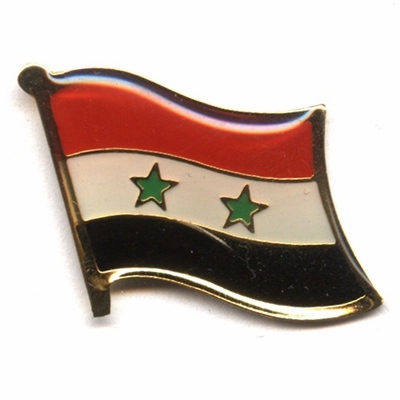 Below is the detail:
1) Syrian flag lapel pins
2) Material: Iron/Bronze
3) Size: 1" or custom size
4) Attachment: Butterfly clutch or safety clip
5) Production process: Die struck-enamel
6) Minimum order: 1 piece
7) Sampling time: 7 days
8) Delivery time: 10-15 days for 1000-5000pcs
9) Packaging: Each into a free PVC bag
10)Payment Terms: T/T, Western Union, Paypal