Mexico full name The United Mexican States, in North America, one of the ancient centers of civilization of the American continent, Indian northern border with the United States, Southeast and neighboring Guatemala and Belize, the west is the Pacific Ocean. The capital of Mexico City. September 16 is Independence Day (1810), the national bird is eagle. Mexico is a large Latin American economies, the GDP of Latin America's largest, after Brazil. The United States, Canada and Mexico agree on the North American Free Trade Agreement on August 12, 1992, and December 17 in the same year by the three leaders in their respective countries formally signed.

The Mexican flag was rectangular, the length and width ratio of 7:4. From left to right of green, white, red three parallel vertical rectangular, painted the middle of the white part of the Mexican national emblem. Green symbol of independence and hope, the white symbolizes peace and religious beliefs, the red symbolizes the reunification of the country.

This Mexico lapel pin is soft enamel lapel pin, one small little flagstaff on the left, gold plating finished. This is the quick way to make a cheap lapel pin. More nice quality pin is the hard enamel or cloisonné. For more columbian countries pins you can check United states flag pins, Canada flag pins or USA lapel pin.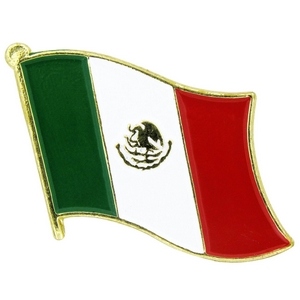 Below is the detailed specification:
1) Mexico lapel pins
2) Material: Iron/Bronze
3) Size: 20x11mm or custom size
4) Attachment: Butterfly clutch
5) Production process: Stamping-punching-enamel
6) Minimum order: No MOQ
7) Sampling time: 6 days
8) Delivery time: 7-18 days for 100-10000pcs
9) Packaging: Each into a free poly bag
10)Payment Terms: T/T, Western Union, Paypal