The Hashemite Kingdom of Jordan is located in western Asia, Northwest is the Arabian Peninsula, west with the Palestinians, Israel, North borders with Syria, northeastern border with Iraq, southeast Saudi Arabia. Jordan is basically a landlocked country. Capital: Amman, major cities: Ma'an, Aqaba, Peiduo La, National Day: 1946 May 25

Jordan flag is a horizontal rectangle, the length and width ratio of 2:1. Flagpole the side of a red isosceles triangle with a white seven-pointed star; parallel wide strips from top to bottom on the right black, white and green. More than four colors of the Pan-Arab colors, white seven-pointed star symbol of the Qur'an.

Do you want to say love with Jordan as a Jordanian. Jordan flag pins made with soft enamel, gold plating and epoxy on surface. We made it every process hand-made with our heart. Take one in your everyday life is a good choice. Loyal is not a word but one falg pins is OK. Here is other Asia pins: Japan flag pins, India flag pins, Australian pins.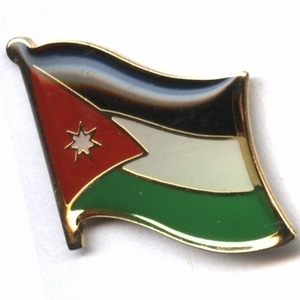 Below is the detailed specification:
1) Jordan flag pins
2) Material: Iron/Bronze
3) Size: 1" or custom size
4) Attachment: Butterfly clutch
5) Production process: Die struck-enamel
6) Minimum order: 1 piece
7) Sampling time: 7 days
8) Delivery time: 10-15 days for 1000-5000pcs
9) Packaging: Each into a free poly bag
10)Payment Terms: T/T, Western Union, Paypal