Japan is located outside the east coast of the Continental Asia of Asia Pacific island countries. West and north separated by the East China Sea, Yellow Sea, Sea of ​​Japan, Sea of ​​Okhotsk and across China, North Korea, South Korea, Russia, the Pacific Ocean in the east. The territory of Hokkaido, Honshu, Shikoku, Kyushu four Oshima and over 3900 small islands, a constitutional monarchy, known as the "rising sun". Capital: Tokyo and major cities: Tokyo, Osaka, Kyoto and Kobe.

National Day: February 11, national flower: sakura. National flag: chapter flag also known as sun flag was rectangular, the length and width ratio of 3:2 (that is, the length of the standard flag size). Face of the flag is white, the middle of a red sun. A white background symbolizes purity, the red center symbolizes loyalty. Sun flag is Meiji 3 (March 1869) promulgated by the political officer Liu Jufeng develop.

This Japan flag pin is same as falg. Just a little radian with normal one. Plated gold and soft enamel craftmanship, simple but representative the patriotic lapel pin. Wear it when the major holiday or meeting will be nice. It's the time to respect your country. The second Asia falg pins and first is the Australian flag pin. Here is the states lapel pin and USA lapel pins if you want to check.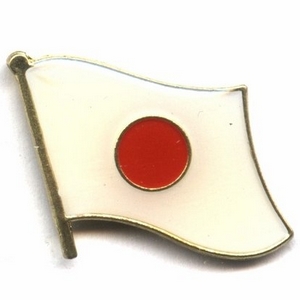 Below is the detailed specification:
1) Japan flag pins
2) Material: Iron/bronze
3) Size: 1"x1" or custom size
4) Attachment: Butterfly clutch
5) Production process: Die struck-plating-enamel
6) Minimum order: No MOQ
7) Sampling time: 7 days
8) Delivery time: 7-18 days for 100-10000pcs
9) Packaging: Each into a free poly bag
10)Payment Terms: T/T, Western Union, Paypal