Jamaica's name is derived from the Indian word meaning "forest water township. It's an island nation in the Caribbean region of North America. Capital: Kingston, major cities: Montan Montego Bay, Spanish Town, the National Day: August 6, 1962, Bolt is the country's most famous athletes.

Jamaican flag on a pair of crossed yellow diagonal, and four juxtaposition triangle on the lower part of the triangle is green and black, compared with around two triangles; the black represents overcome and are facing hardships, yellow represents the natural wealth and sunshine, green represents hope and agricultural resources.

Here is the Jamaica flag pin: bronze plating whole soft enamel pins. Three PMS color filled with handmade one by one. Stamping then polishing well, making with high quality. You will be looking nice when you wear this pretty pin. Other America pins: Canada lapel pins, Mexico flag pin and US flag pins.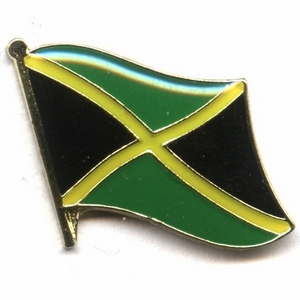 Below is the detail:
1) Jamaica flag pins
2) Material: Iron/Bronze
3) Size: 1" or custom size
4) Attachment: Butterfly clutch
5) Production process: Die struck-cutting-enamel
6) Minimum order: 1 piece
7) Sampling time: 7 days
8) Delivery time: 10-15 days for 1000-5000pcs
9) Packaging: Each into a free oppbag
10)Payment Terms: T/T, Western Union, Paypal