Firstly less national flag have the words on it. But Iran flag have it and make it 22 times. Prove that the words is very very important for the Iranian. And flag used green, white and red color which the same as Mexico Flag Pins, Italy Flag Pins and Bulgaria Flag Pins. If you want to more love or loyal with Iran, take one Iran flag pin is the best way.

Iran full name is The Islamic Republic of Iran, known as Persia before 1935, located in southwest Asia, is a Middle Eastern countries. East of Iran are Pakistan and Afghanistan, the northeast border with Turkmenistan, northwest of Azerbaijan and Armenia is adjacent to the western boundary of Turkey and Iraq, oil exports are the economic lifeblood of Capital: Tehran Major Cities: Mashhad, Isfahan. National Day: February 11.

The Iranian flag was rectangular, the length and width ratio of about 7:4. Top-down by the green, white, red three parallel horizontal length of the composition. The middle of the white bar, inlaid with red emblem of Iran. White and green, red junction, respectively, the Arabic words "Allah is great", plus or minus 11, a total of 22. This is to commemorate the Islamic Revolution Day - Year in 1979, 11, Islamic solar calendar for November 22. The green represents agriculture on the national flag, a symbol of life and hope; sacred and the white symbolizes purity; red Iran is rich in mineral resources.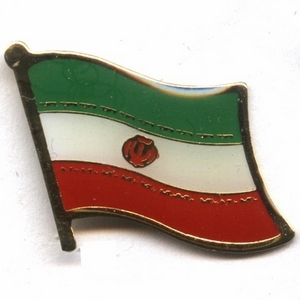 Below is the detailed specification:
1) Iran flag pins
2) Material: Iron/Bronze
3) Size: 1" or custom size
4) Attachment: Butterfly clutch
5) Production process: Stamping-plated-enamel-epoxy
6) Minimum order: 1 piece
7) Sampling time: 7 days
8) Delivery time: 10-18 days for 1000-5000pcs
9) Packaging: Each into a free poly bag
10)Payment Terms: T/T, Western Union, Paypal