Cambodia full name Kingdom of Cambodia is a country in Southeast Asia, the capital of Phnom Penh. West and north-western border with Thailand, northeast of the junction with Laos, east and southeast, bordering Vietnam. Khmer is the main national, 80% of the total population. National Day: November 9, national anthem: Nokoreach, official language : English, French.

Cambodia flag with red, blue and white in color, the middle of white hall of Angkor Wat, was surrounded by red and blue bars (line ratio 1:2:1) red represent the national, the white representing Buddhists, the blue symbolizes the royal family, Cambodians national dictum: "nation, religion, the king". Cambodian election back to the monarchy in 1993 after the re-use.

This Cambodia flag pin is handmade stamping pin. Punching, coloring process are manual. Little bend as the normal flag. Three colors on it, and add epoxy on surface to protect the pins. We have making lots of country flag pin, Asia pins are Japan flag pins and India flag pins. Competitive price and high quality will give for you.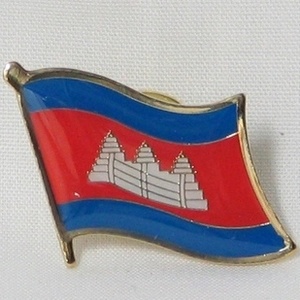 Below is the detailed specification:
1) Cambodia flag pins
2) Material: Iron/bronze
3) Size: 1"x1" or custom size
4) Plating color: Silver
5) Production process: Die struck-enamel
6) Minimum order: No MOQ
7) Sampling time: 7 days
8) Delivery time: 7-18 days for 100-10000pcs
9) Packaging: Each into a free poly bag
10)Payment Terms: T/T, Western Union, Paypal