Thailand full name Kingdom of Thailand,located in Southeast Asia. East of Laos and Cambodia (Cambodia flag pins), south of the Gulf of Siam and Malaysia (Malaysia pins), west of Myanmar and the Andaman Sea. Buddhists account for more than 90% of the country's population. Capital: Bangkok and major cities: Ang Thong, Chiang Mai National Day: 12.

The Thailand flag is rectangular, long and wide ratio of 3:2. Parallel arrangement constituted by the five horizontal rectangle of red, white, and blue color. Above and below the red, blue, middle, and blue on the bottom as a white. Blue width equal to the width of two red or two white rectangle. Red represents the nation and a symbol of the strength and dedication of the people of all ethnic groups; white represents religion (religion lapel pin) - (Buddhism), a symbol of the purity of religion; Thailand is a constitutional monarchy country, the king is the supreme royal blue represents a symbol of the royal family in all ethnic groups, the blue center people and the purity of religion.

Have you seen the Thailand flag pin? Really nice and pretty. Red and white color same as flag, flowing in the wind, flying and active. In the middle of blue is big and catch your eyes. Take one now! Filled the soft enamel color. Plating the pins with gold, polishing surface very soft and smooth. It's a crafts, artware. Other Asia pins: India flag pins and Australian flag lapel pins.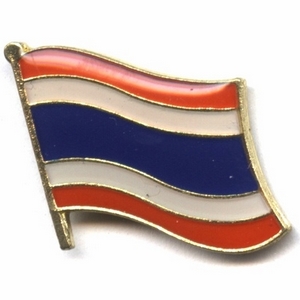 Below is the detail:
1) Thailand flag pins
2) Material: Iron/Bronze
3) Size: 1" or custom size
4) Attachment: Butterfly clutch or safety clip
5) Production process: Die struck-enamel
6) Minimum order: 1 piece
7) Sampling time: 7 days
8) Delivery time: 10-15 days for 1000-5000pcs
9) Packaging: Each into a free oppbag
10)Payment Terms: T/T, Western Union, Paypal