Panama full name The Republic of Panama, is the south central American country. Panama canal connects the Atlantic ocean and the Pacific panama canal is located in the country's central, has the important strategic status, inherit the world famous shipping arteries. Panama se dollars as the legal currency, is the world's first country outside the United States. Capital: panama city, major cities: panama city, David, cologne, National Day: on 3 November, 1903.
Panama national flag is rectangle, long and the wide ratio 3:2. Later by four equal horizontal rectangle composition: upper left and lower right for white rectangle, of which there were blue and red five-pointed star, Lower left for blue rectangle, upper right to red rectangle. White symbol of peace; Red and blue represent respectively the original panama's liberals and conservatives, the two color in the position of the national flag, said the two party unite to strive for the good of the nation. Two stars symbol respectively loyalty and power. The flag design by the first President of panama o Manuel horse dorr · GeLeiLuo.
Here Panama flag pin made with metal material, plating gold color. Same color top to bottom as soft enamel filled handmade. Final process is cover epoxy on surface to protect not scratch easily. Other America pins: US flag pin, Canada flag pins and Mexico flag pins.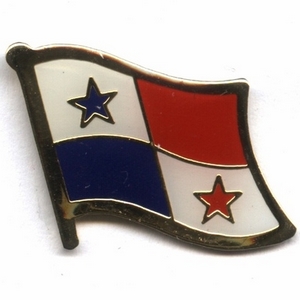 Below is the detailed specification:
1) Panama flag pins
2) Material: Iron/Bronze
3) Size: 1" or custom size
4) Attachment: Butterfly clutch
5) Production process: Die struck-enamel
6) Minimum order: 1 piece
7) Sampling time: 7 days
8) Delivery time: 10-15 days for 1000-5000pcs
9) Packaging: Each into a free oppbag
10)Payment Terms: T/T, Western Union, Paypal