Palestine is a country in the Middle East (under construction), extending from the Eastern Mediterranean to interior of the Eurasian continent. Changing the geographical different over time, so it has not completely determine the boundary. Because of the continuing Israeli-Palestinian conflict, the Palestinian economy suffered huge losses, and underdeveloped infrastructure, high unemployment, low standard of people's living. Capital: Jerusalem, the National Day: November 15.

The Palestinian flag is rectangular, the aspect ratio of 2:1. The left side of the face of the flag is red isosceles right triangle, the right side of the top-down as a black, white, green, three-color wide bar. Red symbolizes revolution, black symbolizes courage and tenacity, and the white symbolizes the purity of the revolution, the green symbolizes the faith of Islam. On behalf of local or red, black behalf of the African, white, a symbol of the Islamic world of West Asia, the the flat green symbolizes Europe; red and the other tri-color phase marks bar location characteristics and its importance.

Here is the Palestinian flag pin: gold plating whole soft enamel pins. Four PMS color filled with handmade one by one. Stamping then polishing well, making with high quality. You will be looking nice when you wear this pretty pin. Other Asia pins: Japan flag pins, India flag pins and Australian flag pins.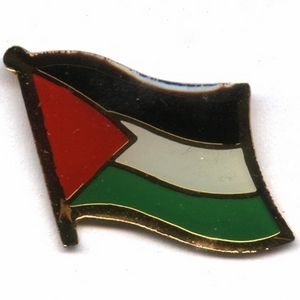 Below is the detail:
1) Palestinian flag pins
2) Material: Iron/Bronze
3) Size: 1" or custom size
4) Attachment: Butterfly clutch or safety clip
5) Production process: Die struck-enamel
6) Minimum order: 1 piece
7) Sampling time: 7 days
8) Delivery time: 10-15 days for 1000-5000pcs
9) Packaging: Each into a free PVC bag
10)Payment Terms: T/T, Western Union, Paypal