Laos is the Lao People's Democratic Republic, name of the Laotian ethnic, meaning "people" or "mankind". Only a landlocked country on the Indochina Peninsula, and its territory bordering with Thailand, Vietnam, Cambodia, China, Myanmar, respectively. Capital: Vientiane, National Day: December 2, the national anthem: "The Lao People's song", the national motto: Peace, independence, democracy, unity and prosperity.
Lao flag is red, blue and white color, the middle of the flag the flag of parallel rectangular blue, representing the flag to half, up and down as a red rectangle, each a quarter of the flag to. Blue expand a fertile and beautiful land, said people love a peaceful life. Red symbolizes the revolution, indicating that at the expense of the blood to defend the national dignity. The blue part of the middle four-fifths of the white circle round the diameter of the wheel of the blue part of the width. White circle symbol of the Lao People united under the leadership of the party and the country a bright future. The white circle also represents the full moon, placed in the blue bar above the symbol of the bright moon hung over the Mekong. This flag was originally the banner of the Lao patriotic front.
Below is the Laos flag lapel pin of flag design, filled color as soft enamel. Same color flag pin with Belize flag pins and Cambodia flag pins. Nice polishing metal line and silver plating. We will give the lowwest price for you on this item. For Asia country you can check the Japan flag pins.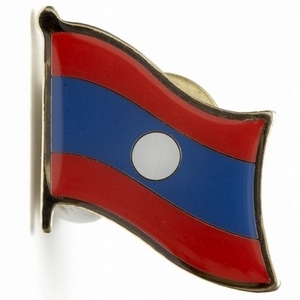 Below is the detailed specification:
1) Cameroon flag lapel pins
2) Material: Iron/bronze
3) Size: 1" or custom size
4) Attachment: Butterfly clutch
5) Production process: Die struck-plated-enamel-epoxy
6) Minimum order: No MOQ
7) Sampling time: 7 days
8) Delivery time: 10-18 days for 1000-5000pcs
9) Packaging: Each into a free poly bag
10)Payment Terms: T/T, Western Union, Paypal