Kenya is located in Eastern Africa, the equator across the middle and the Great Rift Valley across north to south. East Somalia, south of Tanzania, west of Uganda, north with Ethiopia and South Sudan. Southeast with Indian Ocean coastline of 536 km. 18% of the land area is arable land, the rest is mainly suitable for animal husbandry. Kenya is one of the cradles of mankind, within about 250 million years ago have been unearthed human skull, 7th century, the southeast coast of Africa, form the heart of a number of commercial cities, the Arabs began this business and settlement.
Kenyan flag is based on the design of pre-independence Kenya African National Union flag. Rectangular, length and width ratio of 3: 2. Top-down is composed of black, red, green three parallel equal horizontal rectangles, one white and red rectangle down each side. The flag in the middle of a pattern for the shield and two crossed spears. Black symbolizes the people of Kenya, the red symbolizes the struggle for freedom, green symbolizes agriculture and natural resources, white symbolizes unity and peace; spear and shield design symbolizes the reunification of the motherland and the struggle for the defense of freedom.
Below is the Kenya flag pins, gold plating with soft enamel and epoxy, black color top then red and green. Two spears across center. Design of flowing, short flagpole left and likes a real flag in the sky. Here are some African flag pins:
South Africa flag pins
and
Nigeria flag pins
.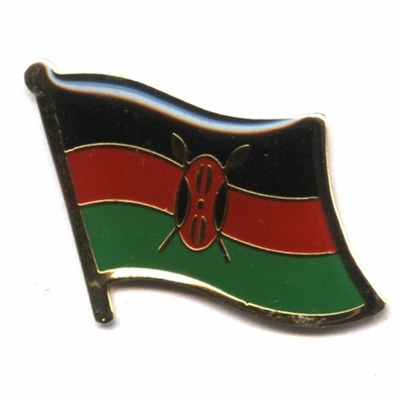 Below is the detailed specification:
1) Kenya flag pins
2) Material: Iron/Bronze
3) Size: 1" or custom size
4) Attachment: Butterfly clutch
5) Production process: Stamping-enamel-epoxy
6) Minimum order: 1 piece
7) Sampling time: 7 days
8) Delivery time: 10-18 days for 1000-5000pcs
9) Packaging: Each into a free poly bag
10)Payment Terms: T/T, Western Union, Paypal