Hong Kong full name Hong Kong Special Administrative Region of the People's Republic of China, abbreviated: HKSAR. Hong Kong Island, the Kowloon Peninsula, the New Territories (including Lantau Island and more than 230 small islands) components. Located in southern China, the eastern side of the Pearl River estuary, north across the Shenzhen River and Shenzhen phase; West and Macao across the sea; south China Sea.
Hong Kong is a highly prosperous international metropolis, is second only to New York and London, the world's third largest financial center, with the New York, London and said "Nuremberg Hong Kong", enjoy a high reputation in the world.
Hong Kong regional flag with red background, red and white symbol of one country, the central star flower white flower Bauhinia flower pattern, Bauhinia is a symbol of Hong Kong Bauhinia bloom symbolizes prosperity, red background a symbol of Hong Kong forever hinterland. Here is the Hong Kong flag pin: same design as flag. Made with gold plating, soft enamel and epoxy on surface.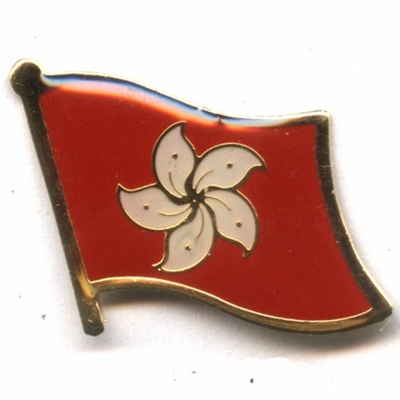 Below is the detail:
1) Hong Kong flag pins
2) Material: Iron/Bronze
3) Size: 1" or custom size
4) Attachment: Butterfly clutch or safety clip
5) Production process: Die struck-enamel
6) Minimum order: 1 piece
7) Sampling time: 7 days
8) Delivery time: 10-15 days for 1000-5000pcs
9) Packaging: Each into a free PVC bag
10)Payment Terms: T/T, Western Union, Paypal