Everyone has a name but how's let others know it? May be tell some one,take a name badge yourself.In other words, you are a famous person. But are you a celebrity? Get a badge is not to let people recognize you, but it can be more convenient when working. Especially in huge company, it can be more easy to know each other.

Name badge can be made with plastic, PVC or metal. Metal name badge can be very nice and not easy to broken, also keep the shape all the time. Process of printing, laser engraved, photo etched. These method are frequently-used. Printing on stainless iron or bronze, need no plating. Laser engraving can be on any metal surface, quicker and cheaper. When make it on blank name badge is more faster. Photo etch is the name badge normal use for different name or number.

This engraved metal name badge is made with photo etched. Material of bronze, plating with nickel. Name with Sophina, one flying bird of peace. On top of head is a green leaf. Color with green & blue & white. Round shape easy to wear.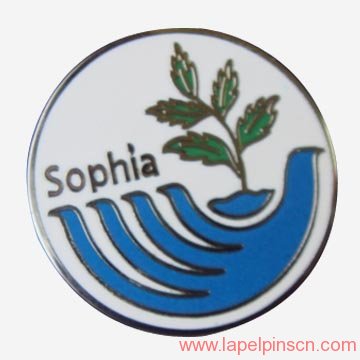 Below is the detailed specification:
1) Engraved metal name badges
2) Material:Bronze
3) Size: Diameter 30mm or custom size
4) Plating: Nickel
5) Production process:Photo etched
6) Minimum order: No MOQ
7) Sampling time: 7 days
8) Delivery time: 15-25 days for 1000-5000 pcs
9) Packaging: Each into a free poly bag
10)Payment Terms: T/T,Western Union,Paypal