Substance abuse refers to the repeated, extensive use of medications that have dependence or dependence potential and are not considered medically necessary and are intended for non-medical purposes. Abuse drugs include non-medical and pharmaceutical preparations, including prohibited substances and prohibited drugs for medical use.
Drug abuse can lead to drug addiction, as well as other behavioral disorders, triggering serious public health and social problems.
The scope of drug abuse
(1) narcotic drugs. Such as opiates, cocaine, cannabis and so on.
(2) Psychotropic drugs. Including central depressants such as sedatives and hypnotics; and central stimulants such as caffeine; and hallucinogens such as trastuzumab, LSD and others.
(3) volatile organic solvents. Such as gasoline, lighter fuels and paint solvents, there is inhibition and hallucinogenic effect, with tolerance or even spiritual dependence.
(4) Tobacco. Long-term use of its main ingredient nicotine can also be addictive.
(5) alcohol. Long-term alcoholism can also produce physical dependence and psychological dependence.
Drug abuse poses great dangers to individuals, families and communities.
1. Serious harm to the physical and mental health of drug addicts
In recent years, the epidemic has been spreading and the mortality rate has increased. The main routes of transmission of AIDS are mainly homosexuality, sexual abuse, intravenous drug abuse, and the three major aspects of blood transfusion or blood products.
2. Effect of drug addiction on prenatal and postnatal care
Physiologically, often appear amenorrhea, ovulation or can not give birth. Recently, pregnant women who used drugs found that the newborns they delivered were underweight and their baby developed more slowly. Clinically, these mother-poisoned fetuses exhibit withdrawal symptoms similar to those of adult chilled turkeys at birth. Mainly tremor, anxiety, hyperactivity, increased muscle tone, crying, breathing faster, sucking poor, convulsions.
3. The long-term abuse of drugs or alcoholism affects families and children
Family members, especially couples, are emotionally volatile and often die in spate of children and families because of the deterioration of their lives and the loss of morality and family financial well-being. According to research, drug addicts' families have a very high rate of divorce.
4. Impact on society
Research by many sociologists suggests that drug abuse and crime can have causal links. Drug abuse creates crime, while perpetrators are more exposed to drug abuse, alcohol abuse, seriously affecting social morals and social order.
This substance abuse awareness pins have the normal red color recessed. Gold metal lines around the red, substance abuse words in it. Can be same as metal gold, or printing any other colors. It's the
printing pins
if making words print. Same design as other red ribbon pins:
Heart Disease Awareness Pins
,
Stroke Awareness Lapel Pins
,
AIDS Awareness Lapel Pins
.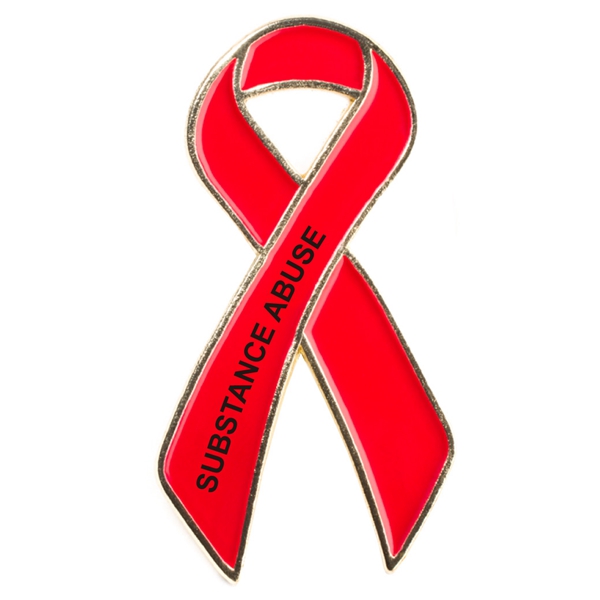 1) Substance abuse awareness pins
2) Material: Zinc alloy/iron/bronze
3) Size: 1.25" or custom size
4) Attachment: Butterfly clutch or rubbers
5) Production process: Die casting-polishing-gold plating-soft enamel
6) Minimum order: No Minimum (No MOQ)
7) Sampling time: 7 days
8) Delivery time: 10-15 days for 100-5000pcs
9) Packaging: Each into a free poly bag
10)Payment Terms: T/T, Western Union, Paypal