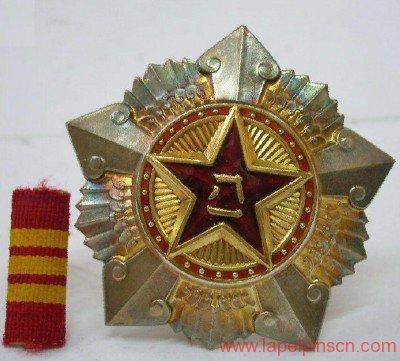 China Changsha Evening News reported that Liao Xiaoming of Sheng Tong village Wang Ling town You County is a private collectors, 47 years old, he has over 40 years of collection experience.Because of do not know how to save,his collection of books, badges appeared mildew, rust, rot and other issues. Spend a lot of effort looking into such appearance, he was very distressed. He wanted to build a private museum,save these babies well, so that more people to share and visit.
The room filled with hundreds of pieces of red collection
In Liao Xiaoming's home, walls, cabinets are full of the kinds of badges, photographs, magazines, books, dizzying about Chairman Mao. More than 100 pieces of Chairman Mao badges, some as big as a fist round badge, a small as heart-shaped with a coin, fan-shaped badge. Rich and varied material badge, a ceramic, aluminum, plastic, copper and so on.
"In recent years,red collections have been hot during the National Day or Revolution Day, the red collection will be a certain rise in the price. Some collectors come up with high prices to buy, but I refused, I have a feeling hard to break away with these collections . "appears in the Liao Xiaoming, the red collection also carries the people's feelings and thoughts of that era.
Look forward to expert advice on how to take care of collections
Collection of more than 40 years, Liao Xiaoming of the collection is very large, but he did not know how to take care of the baby. "I'm generally in a plastic bag in these collections, lock box, very few out." Liao Xiaoming said, "because age has been a long time, could not escape the acidification of collections, moldy, rat-bite the hook worm Some classics have been broken, and some brittle, moldy, more of the already full of holes. The collection of papers read by often led to confusion in the newspaper serial number, could not gather into a book, especially the annual rainy season time, more difficult to take care of. "
Liao Xiaoming afraid of a few years, these collections will be completely different, only when the waste thrown away. "In fact, I would like to build a private museum, well settled in these collections, but has no relevant professional and technical personnel to guide, my idea has been difficult to achieve." Liao Xiaoming hope the experts can do for his Weapon, so he better preserved These collections.