What's the difference between hard enamel and soft enamel pins? That's the cool knowledge if you love pins, here it is:
Pins have colors and no color, no colors means they are metal raw with or without plating. Also have some process on surface, like EMD (Electric Motor Driven), sand-blasting and brushed. These are can be changed the surface or make it special. Metal shinny or Metallic is result.
Most pins are making with colors: hard enamel or soft enamel. Hard enamel pin making with bronze, copper, zinc alloy, soft enamel pin can be iron or any metal or other material, just need area recessed. Soft enamel made with flowing pigment, injection into recessed area, then put them in oven, later is OK.
Hard enamel is little complex, the colors full of the recessed metal, same level with the metal. Color will be little higher when first rejection, then the most magic and important process is levigation. Plating is the final technology for hard enamel pins. So it's smooth or flat on surface with hard enamel. Soft enamel is sags and crests, colors is down then the metal. This is the most difference between hard enamel and soft enamel pins.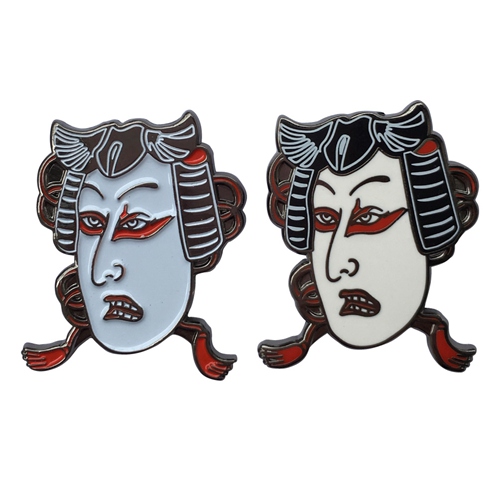 All of them are nice quality and popular. Hard enamel cost is little higher than soft enamel, need more time to make. Here is the photo of cartoon woman pins made with two process: same design and colors, but white seems little different. Please check it carefully and you will find the difference.