Xi'an International Horticultural Exposition 2011
Lapel pin presented along "Bee"
Volunteer Park will be alive at Northwestern University have Dielianhua stage with the World Park deaf children celebrate small press and promising performances Liuyi, Dong, secretary and his party went to watch, stick to their posts on the road to see the volunteers, are enthusiastic Dong Shuji The handshake came forward, the situation of concern inquiry services, the herbal tea, candy and other gifts given to them, and bee logo lapel pin gift to them, received the insignia of the volunteers are excited kept saying thank you, volunteers Yang Wen: "We are moved, the service will be perfect to the end. "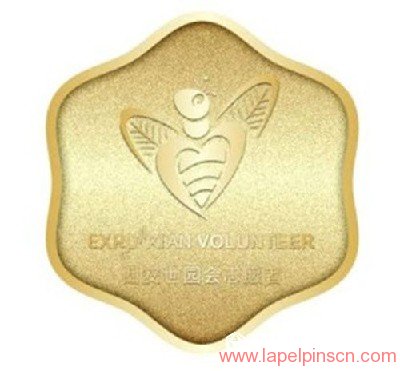 To volunteer sign "Bee"as the core elements of the text wrapping around, including the "Xi'an Horticultural volunteers " in English. lapel pins are engraved on the back of each chop, a unique number, highlight the uniqueness of each and every volunteer.And it's a Volunteer Lapel Pins.
Do not breast Award lapel pins
Stage to the Butterfly in Love, Dong, secretary and his party and the children, young reporters sit together to enjoy the carefully prepared program volunteers, and accepted the World Park, a small field reporters, he picked up the side of a child and small A cordial conversation with a reporter, I hope the children learn, from childhood to develop low-carbon, green living the good habits. DONG Jun, secretary of the hand will then ten "Award lapel pins"were not in the best volunteers chest. "This is the best encouragement for us all grievances and tears is our greatest achievement, " Gao Lingyun outstanding volunteers on behalf of said tearfully.
Leave the door from the Depot after the World Park, Dong Shuji and his party will travel to the world wide shipped Park exit door 5, sympathy, urban site, volunteers and sent gifts.