American Samoa is an unincorporated US territory in the Pacific Ocean, including Tutuila (the largest island, accounting for two-thirds of the area and 95% of the population), Onuu, Ross Island, Swans Island and Manoa Island group. The area is 199 square kilometers. The population is about 67,000 (2006). Capital: Fagatogo. Language: Samoan and English (both official). Religion: Christianity. Currency: US dollar. Samoa is a country with a strong Polynesian traditional culture. For thousands of years, Sa has always attached importance to maintaining its traditional culture and way of life.
The main body of the American National Emblem is a white-headed sea eagle (Vulture) with a shield pattern on the chest. The Bald Eagle is the national bird of the United States. It is a symbol of strength, courage, freedom and immortality. The half of the shield is a blue horizontal rectangle, and the lower half is a red and white vertical strip, which means the same flag. The crown above the eagle symbolizes the birth of a new independent state in the world's sovereign states – the United States of America
This USA American Samoa flag pin is the double flag pins. Left is the USA flag pin, right is the American Samoa flag pin. Use the two flags shape and design, two gold mast crossed each. Round top seems a long flag waving. Making with stamping technology and soft enamel process, can be quick producing and pretty good price.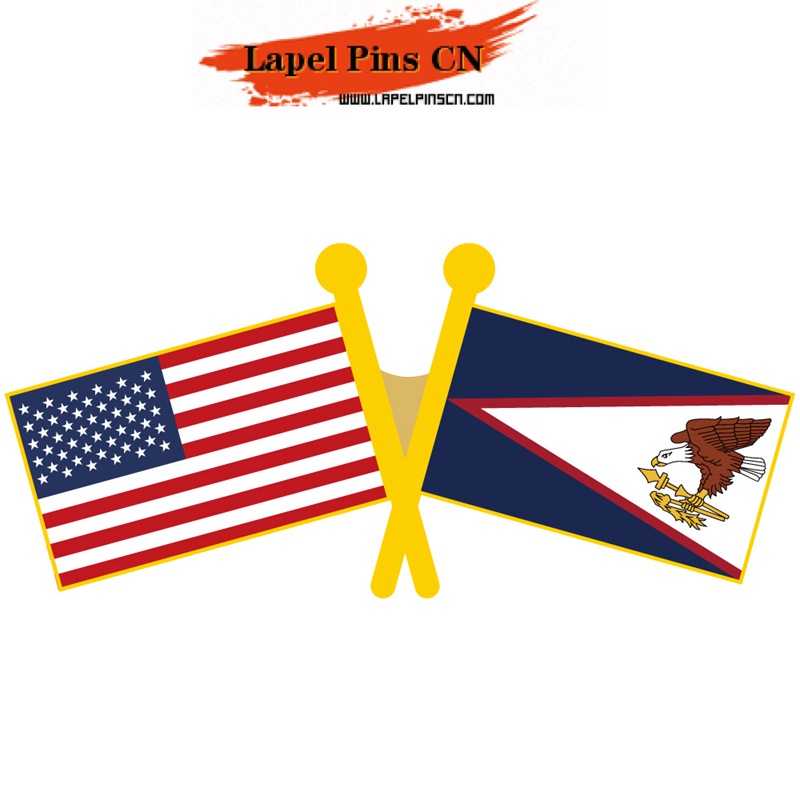 Here are the details:
1) USA American Samoa flag pins
2) Material: Iron/bronze/zinc alloy
3) Size: 1.25" or custom size
4) Attachment: Rubbers or butterfly clutch
5) Production process: Die struck-polishing-gold plating-soft enamel
6) Minimum order: No Minimum (No MOQ)
7) Sampling time: 7 days
8) Delivery time: 10-15 days for 100-5000pcs
9) Packaging: Each into a free poly bag
10)Payment Terms: T/T Western Union PayPal