Switzerland is Swiss Confederation, is a federal state in central Europe (Western Europe), bordering with Germany (Germany flag pins), France (France flag pins), Italy (Italy flag pins), Austria (Austria flag pins) and Liechtenstein. Switzerland is the world's richest, most economically developed and one of the highest standard of living, rich in tourism resources, the reputation of the World Park. Berne is the seat of the federal government, the Swiss is also world-famous neutral. Major cities: Zurich, Lausanne, Geneva, National Day: August 1291 1st.
Swiss flag is rectangular in shape, flag the end of the red, the middle of a white cross. The origins of the Swiss flag design opinions, which the representative to say there are four. 1848, Switzerland has developed a new Federal Constitution, formalized the national flag of red white cross flag of the Swiss Confederation. White symbolizes peace, justice and light, the red symbolizes the struggle and the patriotic enthusiasm; the flag of the whole pictorial symbol of national unity. Modify this flag had done in 1889, changed to the red white cross rectangular cross the square, a symbol of impartiality and neutrality taken by the countries in the diplomatic policy.
Do you have the beautiful Switzerland flag pins? Here is the one: soft enamel color filled process, gold plating and epoxy. Use best quality material of bronze, so nice and good. I thought many person will take this pin when shopping, take activity or international meeting. It's the symbol of Swiss or you love Switzerland. Be loyal and patriotic to your motherland. It's the best way to express. Similar Euro pins: Belgium flag pins and UK flag pins.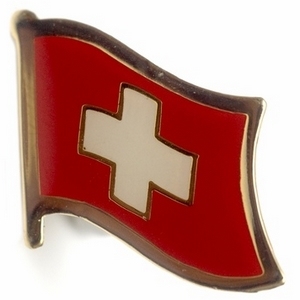 Below is the detailed specification:
1) Swiss & Switzerland flag pins
2) Material: Iron/bronze
3) Size: Diameter 1" or custom size
4) Attachment: Butterfly clutch
5) Production process: Stamping-plated-enamel
6) Minimum order: No MOQ
7) Sampling time: 7 days
8) Delivery time: 10-18 days for 1000-5000pcs
9) Packaging: Each into a free poly bag
10)Payment Terms: T/T, Western Union, Paypal