Do you know which country's flag use red and white color only? Here Indonesia flag is, and in flag pins: there are Turkey flag pins, Denmark flag pins, Poland flag pins, Swiss flag pins, Austria flag pins, Japan flag pins and Canada flag pins. Really many countries. If you want to make pins, here supply you with best price and quality. For we are the directly manufacturer, let your products perfect in every process.

Indonesia full name is The Republic of Indonesia (Indonesian: Republik Indonesia), is one of the countries in Southeast Asia; by the tens of thousands of islands, is the world's largest archipelago nation, and territory across the Asia and Oceania, known as the Kuril country. Capital: Jakarta, major cities: Jakarta, Malang, Bandung, National Day: 1945 August 17​​.

The flag of Indonesia (Bahasa Indonesia: Sang Merah, Putih), known as the glory of red and white, one side red and white horizontal stripes flag. Face of the flag by a red, white two equal horizontal rectangles constitute, for the first time raised the length and width ratio of 3:2. August 17, 1945. Red is a symbol of courage, while white represents purity.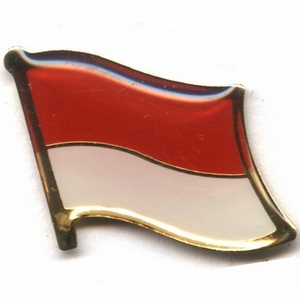 Below is the detailed specification:
1) Indonesia flag pins
2) Material: Iron/Bronze
3) Size: 1" or custom size
4) Attachment: Butterfly clutch
5) Production process: Stamping-enamel-epoxy
6) Minimum order: 1 piece
7) Sampling time: 7 days
8) Delivery time: 10-15 days for 1000-5000pcs
9) Packaging: Each into a free poly bag
10)Payment Terms: T/T, Western Union, Paypal