Chad full name The Republic of Chad,is a landlocked country in central Africa, north of Libya, east Sudan, south of the Central African Republic, southwest Cameroon, Nigeria, adjacent to the west border with Niger. Chad away from the sea, and Homeland mostly desert climate, it is also referred to as "the heart of the African death. French and Arabic is the official language, the capital and largest city is N'Djamena. National Day: August 11, 1960.

Chad flag was rectangular, the length and width ratio of 3:2. Face of the flag by three parallel vertical rectangular. From left to right as blue, yellow, and red. Blue symbolizes the sky, hope and life, also on behalf of the south of the country; yellow symbolizes the sun, and the northern part of the country; red symbol of progress, unity and willing devotion to the motherland of the spirit.

This Chad flag pin also design by the flag. Filled three colors in it, and add the epoxy on the surface. And silver plating, also we can make the gold, bronze, copper or anti effect for you. Color can be soft or hard enamel. Colombia flag pin have blue, yellow and red color too. Here is other African pins: Senegal flag pins, Guinea flag pins and Central Africa flag pins.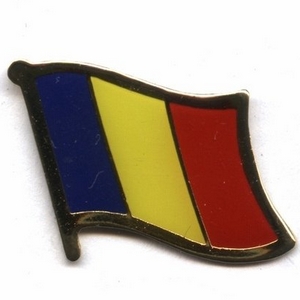 Below is the detailed specification:
1) Chad flag pins
2) Material: Iron/bronze
3) Size: 1"x1" or custom size
4) Attachment: Butterfly clutch
5) Production process: Stamping-enamel
6) Minimum order: No MOQ
7) Sampling time: 7 days
8) Delivery time: 7-18 days for 100-10000pcs
9) Packaging: Each into a free poly bag
10)Payment Terms: T/T, Western Union, Paypal