Australia is a country in the Southern Hemisphere comprising the mainland of the Australian continent, the island of Tasmania and numerous smaller islands in the Indian and Pacific Oceans.Australian word, which means "South China", the Europeans in the 17th century, when the leaves found in the continent, this is a misconception that land through the Antarctic, so the name "Australia", Australia is from the Latin terraaustralis (south of the land ) change from.

Australian flag: horizontal rectangle, the length and width ratio of 2:1. The flag is dark blue, upper left is the red and white "米" word, "米" word below for a large white seven-pointed star. The flag on the right for the five white stars, in which a small star as Pentagon, the rest are seven horns. For the Commonwealth of Australia, the Queen is Australia's head of state. The upper left corner flag for the British flag pattern, suggesting that the traditional relations between Australia and the United Kingdom. A seven-pointed star symbol of the largest component of Australia's six states and the Federal District (Northern Territory and Capital Territory). Five small stars on behalf of the Southern Cross constellation (which is south of the small constellation, the constellation is small, but a lot of bright stars). The "South mainland" meaning that the country is in the southern hemisphere. This is the 1903 selected from more than thirty thousand works out.

This Australian flag lapel pin made of iron, plating with bronze. The shape of floating flag. Same color with Austialian flag color. Hope we can make the best flag lapel pin for you in the near future. Also please check the American flag lapel pin, India flag pins and Hungary flag lapel pins.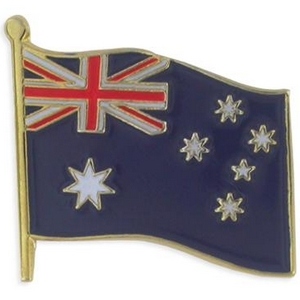 Below is the detailed specification:
1) Australian Flag Lapel Pin
2) Material: Iron/bronze
3) Size: 1"x1" or custom size
4) Attachment: Butterfly clutch
5) Production process: Die struck-plating-soft enamel
6) Minimum order: No MOQ
7) Sampling time: 7 days
8) Delivery time: 8-15 days for 100-10000pcs
9) Packaging: Each into a free OPP bag
10)Payment Terms: T/T, Western Union, Paypal