2014 FIFA World Cup competition in 2014. June 12 to July 13 in the South American country of Brazil held within 12 cities in 12 courts.
2014 FIFA World Cup emblem, was eventually adopted by the Brazilian World Cup logo called "incentive" is basically imitating the shape of the trophy by Yifei Jia design completion of its creation. Hold up the whole world consists of three hand symbol of victory also means mutual exchange between human beings. Emblem of the main color from the yellow-green two-color composition, just on behalf of the primary colors of the Brazilian flag. The word "2014" is red, representing Brazil in the World Cup warm welcome the world.
Brazil World Cup mascot, armadillo carapace with a blue head, back and tail also blue, yellow face and limbs, dressed with the "Brazil 2014" on the white T-shirt and a green shorts. Brazil World Cup's Official Song is a singer Pitbull, Jennifer Lopez and Brazilian singer Claudia Leitte sang the song "We Are One (Ole Ola)" .
Do you know the Word Cup pins please? Here is the one not offical, but customized by people. 3D cup designed center and words round it. "COPA DO MUNDO DA FIFA" on top and "BRASIL 2014" bottom. Gold metal with raised and recessed metal. Please contact if you want to custom your pins.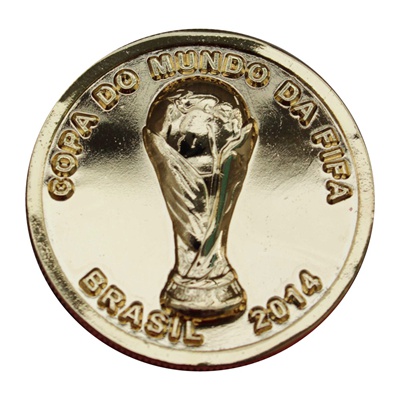 Below is the detailed specification:
1) Stylish poker lapel pins
2) Material: Bronze
3) Size: 1.5" or custom size
4) Attachment: Butterfly clutch
5) Production process: Stamping-plating silver-hard enamel
6) Minimum order: No MOQ
7) Sampling time: 7 days
8) Delivery time: 8-15 days for 100-10000pcs
9) Packaging: Each into a free poly bag
10)Payment Terms: T/T, Western Union, Paypal